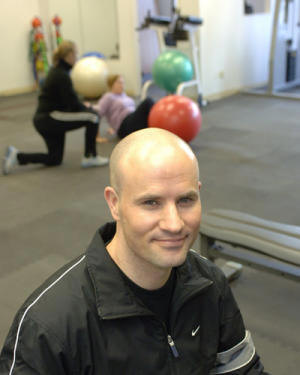 Recognized as one of the top fitness professionals in the country, Brian Calkins has been helping Cincinnatians safely and effectively lose weight and feel great since 1999. In June of 2004 Brian was honored as one of the nation's top 50 personal trainers by the American Association of Personal Trainers and in August, 2005 Mr. Calkins' personal training approach was featured in THE WALL STREET JOURNAL.
Having worked with hundreds of individuals, Brian has developed a warm, motivating & enthusiastic style and approach to fitness that has helped many people weed through all the weight loss and fitness hype and learn what really works.
Mr. Calkins has a strong passion for helping people educate themselves about health & fitness and improving their energy & vitality. He is a fitness presenter and author of various fitness publications including Burn Body-Fat the Right Way! a very popular weight loss book and co-author of The Power of Champions available for sale worldwide. Brian is a weekly columnist locally, and has contributed to Men's Fitness magazine, Personal Fitness Professional. He's been seen numerous times on FOX-19 and WKRC-12 and on both local and national radio as well has been featured in The Cincinnati Business Courier, Cincinnati Magazine and Cincinnati Enquirer frequently.
Brian works exclusively in a Private Studio. He is the president of HealthStyle Fitness, Inc., the ONLY fitness company in Cincinnati to offer its clients guaranteed results…or their money back! You can learn more about his guaranteed fitness success programs by visiting his Program Page or by calling 513-407-4665.
Read Brian's Personal Story...
Credentials:
·
Bachelor of Science, Thomas More College
·
National Strength & Conditioning Association -
Certified Personal Trainer
·
American

C

ouncil on

E
xercise
- Certified Personal Trainer
·
American Institute of Fitness Educators - Certified Older Adult Trainer
·
Health & Fitness Consultant to Several Cincinnati Retirement Communities
Professional Associations:
· ACSM - American College of Sports Medicine
· Healthy Kid's Catalogue: Advisory Board Member
· IDEA: The Association of Fitness Professionals
· SFA - Senior Fitness Association

Fitness Involvement:
· Monthly Radio Show discussing the latest topics, research & trends of Fitness, WAIF 88.3FM – Cincinnati, Ohio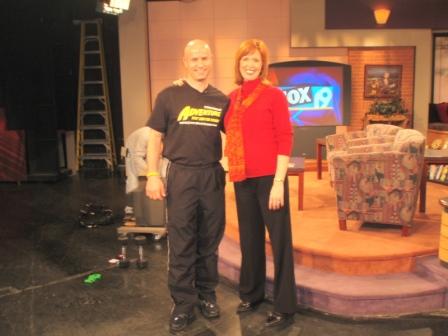 · Weekly Columnist for The Downtowner Newspaper
· Featured on National Radio Show hosted by Phil Kaplan, America's Most In Demand Fitness Professional
· Trainer of other Fitness Trainers throughout the country
· Featured in publications including: Men's Fitness, Maximum Fitness, The Wall Street Journal, Personal Fitness Professional, The Cincinnati Business Courier, CiN Weekly, The Cincinnati Enquirer, Cincinnati Post, Cincinnati Magazine
· Founder and organizer of the 5-Kids Race to Success, a 5K Run/Walk to benefit Adventures for Wish Kids, a non-profit organization that supports children (and their families) with life threatening illness
· Lead Trainer in Cincinnati for Adventure Fitness Boot Camp for Women
· Featured on Cincinnati's CBS Affiliate (WKRC-TV), FOX Affiliate (WXIX-19) Morning Shows, Northern Kentucky Magazine - click to watch videos
· President of HealthStyle Fitness, Inc, - Private Personal Training Studio in Cincinnati, Ohio
Brian's Mission:
"I teach Cincinnatians how to safely and effectively lose weight, get in shape and dramatically improve their health, energy and vitality!"
---

© 1999 - 2008 HealthStyle Fitness, Inc, www.CincinnatiPersonalTraining.com & Brian Calkins- Cincinnati, Ohio
::
Contact
::
About Us
::
Programs
::
Private Studio
::
Announcements
::
Success Stories
::
Store
::
Resources
::
Newsletter
Cincinnati Adventure Fitness Boot Camp for Women :: Mason & Blue Ash Adventure Fitness Boot Camp for Women :: Cincinnati's Total Fitness Makeover :: Cincinnati Fitness